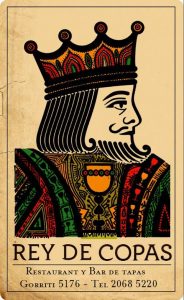 Rey de Copas is a bar built on an old mansion of Palermo Soho. It has ample spaces, patio and terrace offering a warm atmosphere surrounded by art and details in every corner.
In each environment you can see the works of Sebastián Paez Vilaró, owner of the bar, original works of his father Carlos Paez Vilaró and old collections of the family.
The bar is protagonist in Rey de Copas offering a letter with drinks of author that dazzle the senses. Good music, art, quality drinks and gastronomy make Rey de Copas an ideal place to enjoy after-hours, dinners, outings between friends and exclusive events.